My Shared Documents
Go to the Shared quick action button under the user menu.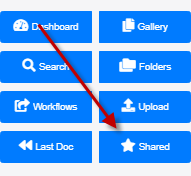 The My Shared Documents page allows you to manage all documents that have been shared to you by other users.
There, you will see the DocID, Add Date, End Date and Shared By.
You can open any of the documents you have been shared by clicking the DocID.