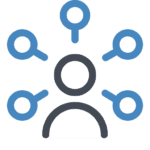 PinPoint's built-in Contact Management System allows you to manage all of your contacts, appointments, tasks, campaigns, opportunities, and any documents related in one system. This makes keeping track of appointments easier and less time-consuming, giving more time to focus on other work tasks. Reminders can be set up to alert users within PinPoint, or via email.  Additionally, users have the ability to email others regarding appointments or tasks directly within the system. PinPoint's Contact Management is built in to our Document Management System, allowing you to improve workplace productivity with a more efficient way of organizing.
Store and Manage All of These Entities in One System
Accounts

Contacts

Campaigns

Tasks and Reminders

Opportunities

Goals

Appointments
Features Include, But Are Not Limited To:



Keep Track Of All Tasks, Appointments, Contacts, Accounts, Goals, Campaigns, And Opportunities

Log Appointments Within The System To Help Keep Track Of Your Schedule

Add Prospective Customers To A Campaign With A Completion Goal

Organize Your Accounts And Contacts Into Groups

Create Standard Email Templates To Use In A Mail Merge To Your Accounts And Contacts

Add Tasks Associated With A Contact With Reminders
Additional Resources
Current Customers
If you would like to learn how PinPoint's built-in Contact Management System can help you, or to enhance what you already use, try out our free online webinar training classes: Click Here
Prefer to use our manual? Here is the link to the first manual page regarding Contact Management: Click Here
   *From there you can explore other manual pages using our table of contents on the right side of the screen!
Future Customers
Interested in a Document Management System? Schedule a Free Online Demo: Click Here