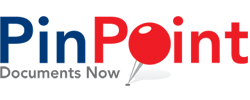 Through Pinpoint, your company will have the ability to define fields and types of documents, even change screen field names without programming to match your organizational procedures. PinPoint also supports multiple languages for a multi-lingual organization. Allow clients to view only what you allow them to or do not allow any outside access, it is all defined by your organization. Built-in mail merge with our word processor allows quick and mass emails, filing into our database, or printing paper or electronic files.
PinPoint is easy to use and easy to set up with full security settings and rights, with content, version, workflow, retention and forms management all built-in. Built-in Multi-Document processing in batches to file automatically.With total organization and independence to retrieve, file and submit documents and files will improve cash flow as well as decision-driven staff, enabling a compliant and efficient organization. Our business solutions are playing a vital role in helping companies of all sizes save money and continues to improve productivity by managing the storage, organization and retrieval of relevant information through a simple desktop interface.
PinPoint Includes:
We remote in and install the application (unless you would rather)
A "Core Business" kick-off meeting so your assigned project manager can set up the "Skeleton" system the way you want it. (You can also do this yourself, but normally we will load this infrastructure based on what comes out of the "Kick-Off" meeting)
Training – 3 classes (about 1 hour each)

Administration – This is where you will see the layout the way you have requested, and at that point from then on, you can add, change, or delete whatever you would like.
A.R.I.E. – This is also an administrative class, and trains you on how to set up the business rules, allowing the system to file documents and split them and merge them automatically.
User – Training the users or train the trainer, depending on your desire. Each student can remain at their desk for this web training.

Support – Both Phone and Ticket Help Desk.
Additional Training throughout the year –We offer the additional training via:

Monthly live web classes offered as a Community Training, where other LSSP customers attend as well, and the open discussion also give ideas to others.
Access to recorded classes for a self-paced approach, or specific refresher topic(s)

Updates of New Releases – Updates are included and are for enhancements and compliance.